Department of General Medicine
Introduction
Introduction of our department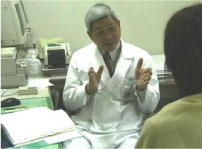 With recent progress in medical science and medical treatments, the demand for highly advanced medical treatments in university hospitals has been growing. Medical facilities have thus inevitably tended to become more specialized in their medical treatment systems. However,diseases are becoming more diversified and complicated, reflecting various sociological factors, such as aging populations, Improving the total clinical abilities of physicians is thus important, with internal medicine at the center, to appropriately cope with various patient needs. Furthermore, university hospitals require departments in which holistic and comprehensive medical treatments are pursued. The Department of General Medicine in our hospital was founded by the first professor, Kazuyoshi Watanabe, in 1993 with the philosophy of pursuing such medical treatments. Currently, under the supervision of Prof. Yasuo Hayashida, members of our department are providing medical treatments with the motto of providing high quality medical services by looking at patients holistically, and acting in collaboration with other specialized departments.
Medical Treatments
New patients without referrals visiting our hospital with problems regarding internal medicine generally come to the Department of General Medicine, and are examined. Based on observations from medical examinations if specialized treatments are required, patients are introduced to each specialized department. Patients with common diseases such as colds, who need consultation after health examinations, and combined chronic diseases, such as lifestyle-related diseases, are provided continuous treatments in the Department of General Medicine. Furthermore, for patients with symptoms for which they are unsure about which department they should visit, such as fevers of unknown origin, the Department of General Medicine is where they have their first consultation. General examinations for patients before undergoing surgical operations are also conducted in our department. Both numbers of inpatients and outpatients have been increasing. The most common symptom among patients is fever, followed by flu-like symptoms, abdominal pain, and chest pain. Symptoms are generally diversified.
| | |
| --- | --- |
| | |
For undergraduate or post-graduate students who are interested in general medicine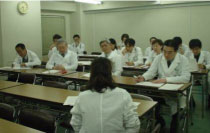 In pre- and post-graduation educational programs in our department, training sessions are provided with the aim of teaching students to recognize patients holistically from the perspective of general medicine, and develop the abilities of students as general medicine physicians by allowing them to learn semiology and diagnostics through preventive and primary cares. Our department is the only one in our facility with the opportunity to be in charge of outpatient treatment. Diagnostics, principles of semiology and practices of infectious diseases, emergency medicine and preventive medicine can thus be learned from the view of general medicine, through experiences in initial medical examinations for various patients at outpatient and hospital wards. Training for community medical practice on isolated islands is also included in the curriculum. The Department of General Medicine is looking for generalist-oriented residents with enthusiasm !
Current main research themes in our department
Diagnostics based on EBM
Clinical research with the focus on infectious diseases
Behavioral science research into lifestyle-related diseases
Preventive medical research into complete medical checkups and occupational fields
Studies on psychological symptoms associated with physiological diseases
Basic and clinical studies on HIV
As basic research, we currently conduct studies on viral diseases including HIV and EBV, and collaborate with the Departments of Rheumatology and Dermatology. Graduate school students can choose fields of interest, and conduct studies in research facilities within or outside the school. If desired, research can be conducted abroad.
A study on epigenetic mechanisms for disease onset based on methylation in SLE
A study on HIV vaccine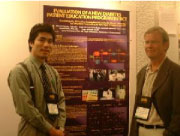 In clinical studies, we have primarily been conducting analyses of clinical epidemiology according to symptoms. We have been presenting research achievements in emergency and preventive medicines.Furthermore, we have been continuing a clinical survey on medical treatments on isolated islands. Graduate students are able to conduct clinical studies based on various clinical data, including infectious diseases and lifestyle-related diseases, using the fields associated with in- and outpatient wards and the university.
Studies of anti-cytomegalovirus IgG antibody positive rate and cytomegalovirus mononucleosis in adults
Analysis of fever of unknown origin in patients visiting the Department of General Medicine
Development of a diet program with combined CT evaluation of visceral fat and behavioral alterations through correspondence courses
Development and evaluation of a self-goal setting health education tool for post medical checkups counseling at Japanese worksite: Health Management 21
A typical career path for graduate students
The graduate school at the Department of General Medicine will consider the subspecialty of students, and allow selection of either basic or clinical studies according to preferences. Students also have opportunities to present their research achievements at international conferences.
In the 1st and 2nd years after graduation
Participation in training sessions according to the clinical research curriculum
In the 3rd year after graduation
Enrolment at a graduate school
Acquisition of a medical specialist license for internal medicine physicians
Conducting basic or clinical research (research can be conducted abroad)
In the 6th year after graduation
Completed post-graduate school
PhD
Fellows' Association of Japanese Society of Internal Medicine
In and after 7 years after graduation
Acquisition of a medical specialist license from the Japanese Medical Society of Primary Care
Ability to obtain specialist licenses from associated societies with various subspecialties

To Page Top