Department of Neuroendovascular therapy
Introduction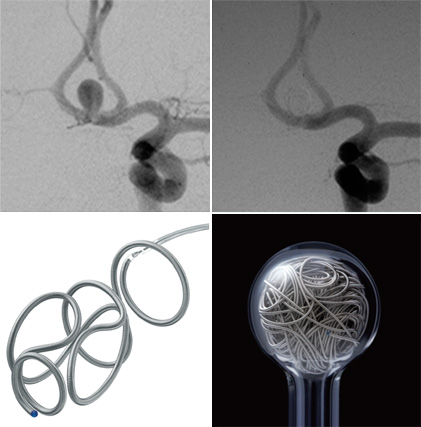 Neuroendovascular therapy is mainly targeted at vascular lesions of the central nervous system. It is a minimally-invasive procedure consisting of percutaneous insertion of a small tube, called catheter, into the targeted vessel and its delivery to the lesion, followed by a therapeutic procedure using special medical devices including coil, liquid embolization material, stent, and balloon. Unlike the conventional neurosurgical procedures, this therapeutic procedure is performed without incision. Its representative procedures include coiling for cerebral aneurysm, stenting for carotid artery stenosis, embolization for cerebrospinal vascular malformation, and revascularization for acute intracranial arterial occlusion.
Purpose of Course
Neuroendovascular therapy has obtained wide recognition as a minimally-invasive procedure in Japan and overseas, and its demand has been increasing every year. In many Asian and Middle East countries, however, there are only a small number of specialists in neuroendovascular therapy, resulting in a limited number of patients who can benefit from the therapy. One of the main reasons for this situation is the lack of adequate educational system for developing specialists in neuroendovascular therapy. Thus, one of our objectives is to develop younger physicians from Asian and Middle East regions by inviting them to the lecture so that they can devote themselves to neuroendovascular therapy in their respective countries. We also aim at building an efficient and effective educational system on neuroendovascular therapy by reviewing the effects of the training in every stage. In addition, we will invite young Japanese physicians as well who would like to acquire the techniques of neuroendovascular therapy to the lecture course, where we will share many of the same experiences with one another. The opportunity will promote the development of neuroendovascular therapy specialists in Japan. The development and advancement of new medical devices and drugs for neuroendovascular therapy will dramatically improve its treatment results and expand its indications. Therefore, it is also our objective to develop new medical devices and drugs to be used in neuroendovascular therapy by making use of experimental models of cerebral aneurysm or arteriosclerosis.

To Page Top
Plan of Educational System
Basic course:
Fellows will learn advanced morphological anatomy, vascular anatomy, and functional anatomy of the central nervous system as well as the basic techniques of diagnostic angiography (intracranial, cervical, and spinal blood vessels), those of which are essential for neuroendovascular therapy.
Professional course:
Fellows will participate in preoperative conferences to discuss cases with representative diseases for neuroendovascular therapy including cerebral aneurysm, intracranial and extracranial arterial stenosis, cerebrospinal arteriovenous malformation, and arteriovenous fistula of the cerebrospinal dura mater, where they conduct a thorough review on therapeutic indications and strategies for individual cases. They will subsequently learn about the selection of medical devices and perioperative management, etc. by observing the actual procedures of neuroendovascular therapy.

To Page Top