Department of Psychiatry & Behavioral Science
Staff
Professor & Chairman

Tadafumi KATO

Professor (Koshigaya Hops)

Toshihito SUZUKI , Hajime BABA

Professor (Geriatric Medical Center)

Nobuto SHIBATA

Professor (Shizuoka Hosp)

Eiji KIRINO

Professor (Nerima Hosp)

Kotaro HATTA

Senior Associate Professor (Koshigaya Hosp)

Rie INAMI

Senior Associate Professor (Nerima Hosp)

Chie USUI

Associate Professor (Juntendo Univ Hosp)

Tsuneyoshi OTA,Chihiro KAKIUCHI,Masanobu ITO, Ito KAWAKAMI, Akane YOSHIKAWA, Narimasa KATSUTA, Masaki NISHIOKA

Associate Professor (Koshigaya Hosp)

Hitoshi MAESHIMA, Shohei NISHIMON

Associate Professor (Geriatric Medical Center)

Kodai SANNOHE

Associate Professor (Urayasu Hosp)

Koichi MIYAKAWA

Assistant Professor (Juntendo Univ Hosp)

Yoshihiro UCHIDA, Yoshihide TAKESHITA  Seita YASUDA

Assistant Professor (Koshigaya Hosp)

Rumiko KAWANO

Assistant Professor (Geriatric Medical Center)

Akiko FURUTA

Assistant Professor (Urayasu Hosp)

Mariko MIYATA Tomoya ICIKAWA
Current topics
Research area in psychiatry has been expanded as the number of treatable clinical disorders has increased along with the development of neuroscience. Based on the wide clinical field (Fig.1), we are trying to integrate the psychopathological studies and neurobiological investigations in order to investigate the pathophysiology and etiology of mental illnesses and to develop new therapies (fig.2). We are also extending international collaboration projects with foreign research groups, in particular the Cambridge Neurobiology Group (Director : Prof.P.C.Emson, Babraham Insitute, UK).
Juntendo Universtity Schizophrenia Project (JUSP)
Juntendo University Alzheimer Project (JUAP)
Juntendo Unviersity Mood disorder Project (JUMP)
These projects are multi-disciplinary and comprehensive study on the pathogenesis and etiology of schizophrenia, Alzheimer's disease and mood disorder (Fig.2).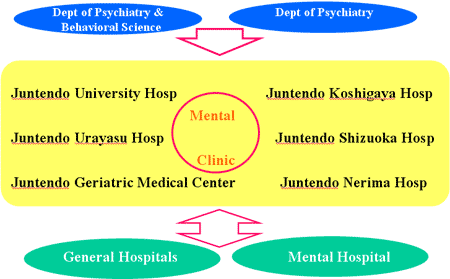 Fig.1
Fig.2

To Page Top